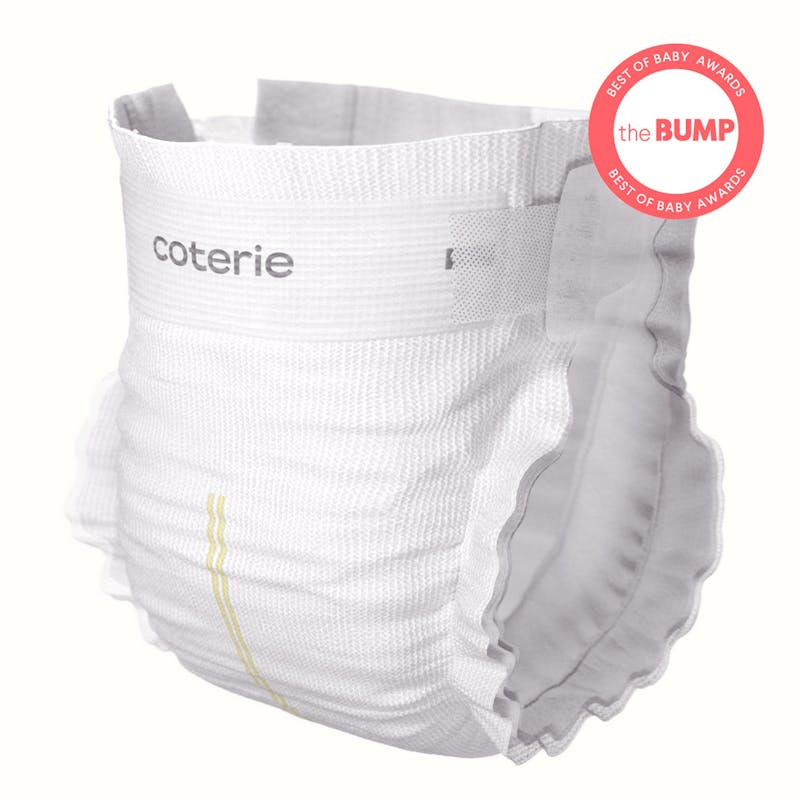 The Diaper
Our diaper will keep your baby drier, longer — both during the day and overnight. We combine super-soft, fragrance-free materials with a proprietary wicking system and superior absorbency to maximize comfort and limit leaks and blowouts. In short, it will make your whole family happier. Plus, no need for separate overnight diapers. (Hooray!)
Note: Each order includes 6 packs of Coterie diapers, which is approximately a 4-week supply.
---
Hypoallergenic, Fragrance free, Chlorine free, Alcohol free, Paraben free, Dermatologist tested and recommended.

• When choosing a size, start with weight but also take into account your baby's age, body type (tall, petite etc.), and waist circumference.
• If your baby is between sizes, it's best to go with the larger size.
• If your baby starts to experience leaks or blowouts, especially at night, it's time to size up!
• The diaper should fit high and snug, with the waistband at your baby's waist, not below. You don't want the diaper tabs to overlap, and there should be no gaps in the legs or waist.

We offer free standard shipping on all orders over $49. Orders under $49 incur a $7.50 shipping fee. We also offer express shipping for $25. Unfortunately, due to Covid-19, we are no longer able to accept returns. However, if you have an issue with your order, please reach out to hello@coterie.com and we will find a solution.
Drier than your dad jokes.
Coterie outperforms leading brands
Better in every way
Ingredients
Absorbent core made of sodium polyacrylate (SAP) and Totally Chlorine Free (TCF) wood pulp from sustainably managed forests. Nonwoven backsheet made of polypropylene and polyester, and topsheet made of polypropylene. High loft nonwoven acquisition layer made of polyester. Hook tab fastening system made of polypropylene / polyethylene, film, adhesive. Wetness indicator.